Check out our Eco-Displacement workshop results! We have a beautiful acquarium, with fish from the toxic waters of the Hudson swimming happily at The Sanctuary for Independent Media. We also collected found objects from the desolate beach at Ingalls Ave. Boat Launch, which became creative elements for the Eco-Displacement environment. This art acqurium was created by workshop participants, including several North Troy neighborhood youth. We had so much fun!
This program involved the creation of a Hudson River Eco-Displacement sculpture. Firstly as a group we will set-up a 20 gallon aquarium with filtration and discuss the water-cycle, pollution and habitat requirements for aquatic species. We will fill then go to the river to collect artifacts and specimens and displace them into the aquarium. Together we made an aquatic species guide of the species living in the Eco-Displacement. LOCATION: The Sanctuary for Independent Media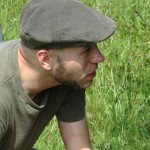 Environmental activist and visual artist Brandon Ballengée will work with members of the community to collect specimens and look at the aquatic life of the Hudson River and surrounding area.
Brandon Ballengée (American, born 1974) is a visual artist, biologist and environmental activist based in New York.
Ballengée creates transdisciplinary artworks inspired from his ecological field and laboratory research. Since 1996, a central investigation focus has been the occurrence of developmental deformities and population declines among amphibians. In 2001, he was nominated for membership into Sigma XI, the Scientific Research Society. In 2009, Ballengée and SK Sessions published "Explanation for Missing Limbs in Deformed Amphibians" in the Journal of Experimental Zoology and received international media attention from the BBC and others. This scientific study was the inspiration for the book Malamp: The Occurrence of Deformities in Amphibians (published by Arts Catalyst & Yorkshire Sculpture Park, UK) and a solo exhibition at the Royal Institution of Great Brittain (London, England: 2010). Since 2009 he has continued his amphibian research as a visiting scientist at McGill University (Montréal, Canada). In 2011 he was awarded a conservation leadership fellowship from the National Audubon Society's TogetherGreen Program (USA).
His art has been featured in several major US publications, including ARTnews, Art in America, The New York Times, New Yorker, The New York Times Magazine, Orion, Audubon Magazine and Sculpture. Internationally, it was also featured in Beaux Arts (France), Liberation (France), L'Oeil (France), The Observer (England), The Guardian (England), Financial Times (England), BBC News (England), D'Ars (Italy), Domenica (Italy), Il Venerdi (Italy), The Sunday Guardian: New Dehli (India) and others.