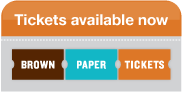 Join longtime activist/educators (and former members of the Weather Underground) Bill Ayers and Bernardine Dohrn for an engaged conversation about the world, this historical moment, and where we go from here.
Bill Ayers is a social justice activist, teacher, Distinguished Professor of Education (retired) at the University of Illinois at Chicago, and author of two memoirs, "Fugitive Days" and "Public Enemy."
His new book, "Demand the Impossible," is a manifesto for movement-makers. In an era defined by mass incarceration, endless war, economic crisis, catastrophic environmental destruction, and a political system offering more of the same, radical social transformation has never been more urgent. "Demand the Impossible" urges us to imagine a world beyond what this rotten system would have us believe is possible. In critiquing the world around us, insurgent educator and activist Bill Ayers uncovers cracks in the system, raising our sights for radical change, and envisioning strategies for building a movement to create a more humane, balanced, and peaceful world.
Bernardine Dohrn, activist, academic and children's and women's rights advocate, is a retired Associate Clinical Professor at Northwestern University School of Law, where she was the (founding) director of the Children and Family Justice Center for twenty-three years. Dohrn was national leader of SDS and the Weather Underground, and was on the FBI's 10 Most Wanted List.
Dohrn is an author and co-editor of three books: "Race Course: Against White Supremacy (2009) with Bill Ayers; "A Century of Juvenile Justice" (2002); and "Resisting Zero Tolerance: A Handbook for Parents, Teachers and Students" (2001). Most recently she has written "In My Lifetime, Young People Have Changed the World: Children as Social Actors" in Diving In, and "The Surprising Role of the CRC in a Non-State Party" in Litigating the Rights of the Child.
She is co-editor of Sing A Battle Song: Documents of the Weather Underground, and wrote the introduction to Letters from Young Activists. Dohrn taught women and children's human rights law at Northwestern, was a visiting professor over ten years at Leiden University faculty of law in the Netherlands and at Vrieje University in Amsterdam, and a Lecturer at the University of Chicago.
Demand the Impossible! is more than a book, more than a manifesto. It is a torch. Bill Ayers' vision for a humane future is incendiary—fire that incinerates old logics and illuminates new paths. If we do not end the violence of militarism, materialism, caging, dispossession, debt, want, ignorance, and global warming, our very survival is impossible. Read aloud. — Robin D. G. Kelley, author of Freedom Dreams: The Black Radical Imagination.
With the beautiful idealism of a young radical and the sage wisdom of an elder, Bill Ayers is making trouble again, and we should all be grateful. In Demand the Impossible! Ayers troubles the waters of staid political practices, insisting that we close our eyes for a moment and think creatively about what a better world might look like, and then open our eyes wide and organize boldly to make that world a reality. This is an elegant and provocative manifesto for our time, one that honors the social justice organizing currently in motion. — Barbara Ransby, author of Ella Baker and the Black Freedom Movement: A Radical Democratic Vision and Eslanda: The Large and Unconventional Life of Mrs. Paul Robeson.
With huge numbers of us recognizing the need for transformative change, this ambitious and exuberant book perfectly matches its historical moment. Ayers fearlessly confronts the intersecting crises of our age—endless war, surging inequality, unchecked white supremacy and perilous planetary warming—while mapping emancipatory new possibilities. From the first page, his courage is contagious. — Naomi Klein, author of This Changes Everything: Capitalism vs. the Climate and The Shock Doctrine: The Rise of Disaster Capitalism.
Demand the Impossible! is just what the world needs right now, a manifesto that challenges us to imagine bigger, love harder, create more expansively, and struggle toward a liberatory future in spite of our deepest doubts. Bill Ayers wakes us up and shows us that even the most entrenched, most permanent-seeming institutions—the military, the prison, the police, capitalism itself—are no match for the creativity and determination of the "universal family" and the "better angels of ourselves." Demand the Impossible! is a call to abandon the illusory American Dream wholesale, and, in its place, to unleash our own collective, revolutionary dreams into the universe. I dare you to not be inspired by this book. — Maya Schenwar, editor-in-chief of Truthout and author of Locked Down, Locked Out: Why Prison Doesn't Work and How We Can Do Better.
Bill Ayers has produced a portrait of two worlds. One is a dystopia, recognizable as the world in which we live, the other a world that capitalism describes as a fantasy—a world reconstructed around values that place the advancement of humanity and the sanctity of the planet above the accumulation of wealth and power. The two portraits stand in dramatic contrast and make Demand the Impossible! both illuminating and compelling. This manifesto is radical less in its rhetoric than in its daring to actually go to the roots of the barbarism of the capitalist system. Demand the Impossible! is to be read and then shared widely. It can serve as a motivator for those of us engaged in the long battle for justice and social transformation. — Bill Fletcher, Jr., talk show host, writer, and activist. Author of Solidarity Divided and "They're Bankrupting Us" And Twenty Other Myths about Unions.
Bill Ayers is the philosopher of the revolutionary spirit. These are despondent times, and yet, as Bill muses—history can surprise us. In preparation for that surprise, Bill has written a smart and inspirational manifesto. — Vijay Prashad, author of The Poorer Nations.
In his many years of practicing and theorizing pedagogy, Bill Ayers has proven himself a master teacher. Now, Demand the Impossible! is a brilliant and accessible distillation of techniques and knowledge crafted into a powerful manifesto for our times, expanding the horizon of our expectations. — Roxanne Dunbar-Ortiz, author of An Indigenous Peoples' History of the United States, and Red Dirt: Growing Up Okie.
Bill Ayers' Demand the Impossible! is a strong shot of inspiration for anyone searching for deep social transformation. It is a heartfelt, upbeat manifesto in favor of activism as an antidote to despair. Chock-full of personal stories, real facts and concrete examples packaged in exquisite writing, Demand the Impossible! will open your mind to possibilities you never thought existed. Ayers will get you off your seat and into the street, fist raised, heart full, reaching for the spectacular. — Medea Benjamin, co-founder of Code Pink, and author of Drone Warfare: Killing by Remote Control.
This is a deeply refreshing book, reminding us of why the core principles of socialist and anarchist thought—peace, justice, freedom, equality—are grounded, not in utopian fantasy, but in the joyous work of the creative imagination in everyday life. In large ways (an end to the military-industrial complex and the U.S. prison system) and small (the rebirth of community and public life in neighborhoods) Ayers offers a program that is long on ideals and even longer on actually existing programs, groups, movements, and individuals working toward a humane future. By turns alarming in its realistic assessment of the madness and stupidity of the present global system, and inspiring in its down to earth proposals for alternative human futures, this is a must-read for discouraged progressives everywhere. It is a book that could be a clear and present danger to Western civilization as we know it—and in the very best way. — W. J. T. Mitchell, editor, Critical Inquiry, and author of Seeing Through Race and Cloning Terror: The War of Images, 9-11 to the Present.
Bill Ayers reminds us that radical social change, including revolution, is begun and sustained not by the practical, but by those possessed by a messianic vision, one that is worth fighting and even dying to achieve. Without this vision, and the steadfastness required to sustain it, nothing important is accomplished. We live in a moment in human history when only those who dare to defy all odds, only those who resist, not because they will win but because it is right, will make change possible. — Chris Hedges, best-selling author of War Is a Force That Gives Us Meaning, (with cartoonist Joe Sacco) Days of Destruction, Days of Revolt, and most recently, Wages of Rebellion: The Moral Imperative of Revolt.
Demand The Impossible! provides the imperative we need now. As public consciousness and despair heighten in our various locales, we must be willing to engage lessons from the past and present while building a future that is reflective of our commitment to justice. If we're serious about this, we know there is no choice: all we got is US! — David Stovall, author of Born Out of Struggle: Critical Race Theory, School Creation, and the Politics of Interruption, Professor of Educational Policy Studies and African-American Studies, University of Illinois at Chicago.
For Bill Ayers, it is the freedom of our collective imagination that links the contemporary world—ensconced as it is in pervasive militarism, racist violence, and environmental devastation—to the flourishing of our planet. This is a manifesto that should be read by everyone who wants to believe that "another world is possible."
— Angela Y. Davis, Distinguished Professor Emerita, History of Consciousness and Feminist Studies, University of California, Santa Cruz, and author of Abolition Democracy and Freedom is a Constant Struggle.
Every once in a while a book comes along that not only changes the way one thinks, but opens a new space for imagining and then acting to create a better world with commitment, courage, and a heightened sense of ethical and social responsibility. Demand the Impossible! is one of those books, and it ranks right at the top of the list. Ayers has a gift—he not only writes like a poet but he never fails to deal with rigorous and important ideas in an accessible and moving style. Touching on a range of issues extending from police violence and racism to ecological destruction, Ayers raises all the right questions and connects the dots that provide a tapestry for energizing the radical imagination. This may be one of the best books written in that tradition. Powerful, insightful, prodding, challenging, and most of all hopeful—if you want to understand the problems facing a society tipping into the abyss of authoritarianism, this book is a must-read, a kind of master text for those of us figuring out how to change a world that seems at time beyond our reach. — Henry Giroux, McMaster University Professor for Scholarship in the Public Interest, Distinguished Visiting Professor at Ryerson University, The Paulo Freire Distinguished Scholar in Critical Pedagogy, author of Theory and Resistance in Education, Disposable Youth, Racialized Memories, and the Culture of Cruelty, and The Violence of Organized Forgetting.
Demand the Impossible! is a timely call to action. The Manifesto lays out the challenges we currently face and pushes us to imagine a more just and peaceful world. "What if' we resisted the logics of war?" "What if' we embraced the idea of abolishing the prison industrial complex?" "What if' we followed the lead of the courageous young people currently challenging police power?" "What if' we took seriously that another world is possible?" Bill Ayers writes clearly and passionately about these and other important issues like economic and environmental justice. Read Demand the Impossible! to unleash your radical imagination and to gain insight into how we can and must transform society. — Mariame Kaba, founder/director of Project NIA