Here's the email we received from alt comedian Jamie Kilstein's "people" a few hours after we printed and distributed 10,000 copies of our Spring 2014 Sanctuary season brochure:
"I'm sorry to say that Jamie has decided he will not be performing with you all this April. Circumstances have changed and he really can't accept a small amount of payment for his time. We hope you understand and good luck with your season."
So, we're gonna have to get our laughs somewhere else on April 19. Maybe there's a god-fearing, red meat lovin', right wing comic out there whose word is bond. Already booked? Dang!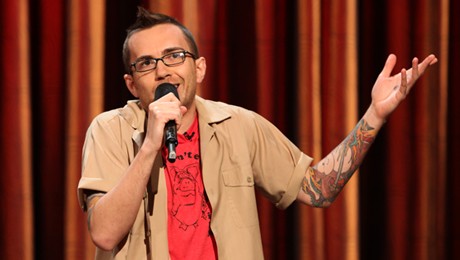 Jamie Kilstein is a Washington D.C. based political radio host, writer, and comedian. After dropping out of high school, he lived in his car for a time, before becoming a world renowned funnyman. He has been featured on TBS' Conan, MSNBC's Up with Chris Hayes, Melissa Harris-Perry, and Countdown with Keith Olbermann, FXX's Totally Biased with W. Kamau Bell, NPR's Weekend Edition, Showtime's The Green Room, CNN's The Joy Behar Show, The Paramount Comedy Channel in the U.K., the BBC, the Comedy Channel in Australia, HBO Canada, and Showtime Comedy in the Middle East.
His latest CD, What Alive People Do, was released at number one on both the iTunes and Amazon comedy charts. It is also the first CD released by Standup Records to be reviewed in Rolling Stone magazine.
He co-hosts Citizen Radio, which has been praised by Janeane Garofalo, Noam Chomsky, and Robin Williams. He and his co-host, Allison Kilkenny, were named "top media heroes" by The Nation magazine. Most importantly, Glenn Beck has called him a "doofus" and "goofball" and Jonah Goldberg refuses to fight him.
He was a Timeout Chicago, Sydney, New York, and London's Critics Pick. He has played to the concert hall of the Sydney Opera House and opened for Bad Religion.