Date/Time
Date(s) - Thursday 06/25/2020
7:00 pm - 9:30 pm
Location
The Sanctuary for Independent Media
Join filmmaker Clément Guerra and Indigenous media makers in an online HD screening of "The Condor and the Eagle," followed by a Be The Media! workshop: "Indigenous Voices: Media for Environmental Organizing."
How can media drive impact keeping Indigenous voices front and center?
During this time of COVID and a health crisis disproportionately impacting Indigenous communities, how can independent media work build solidarity in the pandemic and in the increasingly critical struggle against Climate Change
7:00 PM | Screening; 8:30 PM | Be The Media! workshop with filmmaker Clément Guerra; protagonist Bryan Parras; Jade Begay from NDN Collective; Ecuadorian media maker Leo Cerda from HAKHU Project; Heather Bruegl, Director of Cultural Affairs for the Stockbridge Munsee Community; and Branda Miller, Arts & Education Coordinator at The Sanctuary for Independent Media, Prof. of Media Arts, Rensselear.
Sponsored by iEAR Presents! and the School of Humanities, Arts and Social Sciences at Rensselaer, made possible by the New York State Council on the Arts with the support of Governor Andrew M. Cuomo and the New York State Legislature.
In Condor and the Eagle, Indigenous leaders embark on a trans-continental, liberating journey to shine a light on Climate Change. Explore with the filmmakers how media can have impact keeping Indigenous voices front and center. During this time of COVID and a health crisis disproportionately impacting Indigenous communities, how can The Condor and the Eagle media impact campaign build solidarity in the pandemic and in the increasingly critical struggle against Climate Change?
Filmmaker Clement Guerra and protagonist Bryan Parras will join Jade Begay from NDN Collective and Ecuadorian media maker Leo Cerda from HAKHU Project in a "Be the Media" workshop with The Sanctuary for Independent Media. Together they will explore how media highlighting Indigenous voices can impact a shift from witnessing environmental destruction to practical actions for sustainable community based initiatives. This virtual workshop kicks off a following full week of action beginning on June 21st with daily screenings of The Condor and the Eagle, using media as an impact tool.
Be The Media! workshops teach multimedia skills to community members to develop urgently needed independent local voices. Our goal is to empower the public through independent media making, supplying them with the tools to tell their own stories through different mediums of media including radio, video and journalism.
MORE ABOUT THE CONDOR AND THE EAGLE
Four Indigenous leaders embark on an extraordinary trans-continental adventure to unite peoples of the Americas and deepen the meaning of "Climate Justice."
Energy companies are actively planning to triple Canadian tar sands (world's largest industrial project) production in the coming years, which would mean "game over" for climate change. Such an increase in production is possible if the planned pipelines are actually built and permitted in the US and Canada. Our four protagonists live alongside the pipeline routes. The Condor & The Eagle brings to light the major role played by Indigenous women in the build-up of the Environmental Justice Movement.
Our film documents the stories of four well-known Native environmental spokespeople who are at the forefront of a perspective shift in the identity of their people, from forgotten voices to powerful and influential leaders. They have struggled with feelings of isolation their entire lives and are now discovering the power of their shared voices to bring change to the entire world. With the continuous expansion of pipeline projects throughout the Americas these Indigenous women and men represent the last remaining landholders who refuse to sacrifice their territories to transnational oil companies. Their unification in New York first and later in Paris are among many similar and burgeoning initiatives, mostly led by Indigenous women, that have inspired people around the world to rise for the protection of the earth and give life to the climate justice movement.
Melina Laboucan-Massimo and Bryan Parras's lands were devastated by the oil industry and it has remained an acceptable secret, with no coverage from the media, and limited support from their governments. Even as her people were dying in the Alberta tar sands, Melina's sister was recently murdered: violence against the Earth, begets violence against women. This tragic event set into motion her quest for justice, which will lead her half way across the globe. Bryan has always lived in the energy capital of the world, Houston. He grew up uprooted from his Indigenous origins until the day he met with other Indigenous people who vowed to bring back respect for the land and ancient cultures. So begins his journey to rediscover his true self, the meaning of being Indigenous.
Filmed in the verdant jungles of the Amazon (Ecuador and Peru), the brightly colored cultures of the Pan American First Nations communities (Vancouver, Alberta) and the United States Indian tribes (Oklahoma), viewers glimpse extraordinary beauty in the places, faces and regalia of traditional people. The Indigenous heartfelt pursuit for self- discovery, self- reclamation, and a way of life, is chronicled as they build alliances around the world (in Peru, Ecuador, Paris, Washington and New York) because to them a crime against Mother Earth is a crime against humanity.
We follow our protagonists as they develop a resistance strategy that matches the level of their opponents – taking their effort to South America, Europe and beyond. Their task is to make local battles an International concern and finally expose criminal corporations responsible for serious crimes. Our film promotes an intercultural dialogue by showing how non-Indigenous and Indigenous people come together.
BIOS
Clément and Sophie Guerra
We are Sophie and Clément Guerra. We have been working on The Condor and The Eagle for the past four years. Clement is currently the European Director of Survival Media Agency and have been producing high-quality visual media for climate and social justice movements. Our vision for this project is driven by the necessity to shift from witnessing environmental destruction to actively taking part in solution-based strategies. We hope to share clear and practical actions that people can take to support this shift after watching this film. By contributing to this project, you will help bring these impacted communities together for strategic events and actions.
While the Amazon rainforest has been on fire for a month, UN climate scientists are predicting unprecedented global catastrophe. "The Condor & The Eagle" features Indigenous leaders, from the global North and the global South deploying an unparalleled joint and coordinated global response. Facing this overwhelming current political climate, a great many people are looking for answers that are adapted to today's urgency. Our film and campaign show tangible actions "anybody" can take, inviting white and privileged people to follow the call from Indigenous communities.
Four Indigenous environmental leaders embark on an extraordinary trans-continental adventure from the Canadian Boreal forests to deep into the heart of the Amazonian jungle to unite the peoples of North and South America and deepen the meaning of "Climate Justice". The Condor & The Eagle documentary offers a glimpse into a developing spiritual renaissance as the film four protagonists learn from each other's long legacy of resistance to colonialism and its extractive economy. Their path through the jungle takes them on an unexpectedly challenging and liberating journey, which will forever change their attachment to the Earth and one another.
Most of our work focuses on America energy hotspots that are the tar sands in Alberta and Houston industries. As Fossil Fuel developments get out of control (largest-ever open pit tar sands mine is quietly making its way through a government review – dramatic impacts of climate change on Houston and the Gulf), some of the most bio diverse places in South America are being sold to oil companies (Sarayaku, Sapara, Yasuni, Rio Tigre, etc.). The urgency is real and our film and campaign will make sure that these large-scale destructive projects are made public and lift up the voices of resistance from North and South America.
Bryan Parras
Bryan Parras is one of the Gulf Coast's most dynamic environmental justice organizers fighting along the entire central and eastern United States. Bryan grew up in a community on the east side of Houston, Texas, near one of largest concentrations of petrochemical plants, refineries and storage tanks in the world.
Bryan is deeply involved in the documentation of environmental racism experienced by marginalized communities from Houston and throughout the greater Gulf Coast region. Bryan has maintained his indigenous roots by core values that have survived over 500 years of suppression. Bryan hopes to learn more about his indigenous roots by reconnecting with other indigenous communities and practices.
In 2016, Bryan helped organize the Peace & Dignity Journey along the Gulf Coast, connecting New Orleans with Houston and for the first time opening up the Gulf Coast to the continental journey awakening old trails and trade routes from South to North. Bryan continues to help lead the rising environmental justice movement and is currently helping people in Houston and the Gulf Coast fight for a just Recovery after Hurricane Harvey. For Harvey's one-year anniversary Bryan organized a People's Tribunal with a coalition of housing, immigration, labor and environmental organizations.
Jade Begay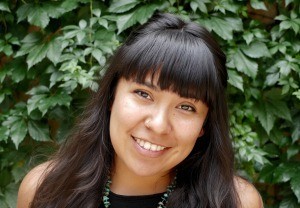 Jade Begay, (Diné and Tesuque Pueblo), is a filmmaker and Creative Director, leading NDN Collective's multimedia content development through strategic narrative development and creative content design. In May 2015, Jade completed the Environmental Leadership MA program at Naropa University which trains students, like Jade, in how to lead organizational and community transformation towards an environmentally and socially just and sustainable society. Currently Jade works on a wide range of issues from Women's and reproductive rights to Climate Change to racial justice and to nuclear guardianship. Jade is also a facilitator and trainer in diversity and inclusion work. At the foundation of Jade's work is her life's purpose to support First Nation communities in restoring ecological balance and protecting their cultures. Her camera, her communications skills, and her passion for justice are her tools for amplifying Indigenous and marginalized people's voices and movements.
Leo Cerda
Leo Cerda, Executive Director, Hakawati is a member of the Kichwa community of Serena in the Ecuadorian Amazon. As a climate activist and indigenous rights defender he focuses on efforts to build a more just and sustainable society. Like many indigenous people at a young age he had no choice but to learn about the struggles of his people and started working with local grassroots organizations to create awareness about the environmental and cultural impacts caused by the oil industry. He is the Founder of the HAKHU Project, a young organization that supports community-based economic initiatives as a way to fight against exploitative oil and mining development in the Ecuadorian Amazon. He currently serves and works with many organizations locally and internationally bridging indigenous community initiatives and international support.
Heather Bruegl
A curiosity of her own heritage lead Heather Bruegl to Wisconsin, where she has researched the history of the Native American tribes in the area. While Heather calls Michigan home, she has recently moved to Wisconsin and is now the Director of Cultural Affairs for the Stockbridge Munsee Community.
In addition to that she also currently travels and speaks on Native American history, including policy and activism.a member of the Oneida Nation of Wisconsin, is a graduate of Madonna University in Michigan and holds a Bachelor of Arts and Master of Arts in U.S. History. Inspired by a trip to Wounded Knee, South Dakota, a passion for Native American History was born. She has spoken for numerous groups including the University of Michigan, College of the Menominee Nation, Shawano County Historical Society, the Kenosha Civil War Museum, Stockbridge-Munsee Band of the Mohicans, and the Oneida Nation of Wisconsin. She has spoken at the University of Wisconsin-Oshkosh for Indigenous Peoples Day 2017. Heather also opened up and spoke at the Women's March Anniversary in Lansing, Michigan in January 2018. She also spoke at the first ever Indigenous Peoples March in Washington, DC in January of 2019. Summer 2019, she spoke at the Crazy Horse Memorial and Museum in Custer, South Dakota for their Talking Circle Series. She has also become the ''accidental activist'' and speaks to different groups about intergenerational racism and trauma and helps to bring awareness to our environment, the fight for clean water and other issues in the Native community.
Branda Miller
Branda Miller is a media artist and educator, dedicated to art, ecology and community interdisciplinary arts. She is the Arts and Education Coordinator at The Sanctuary for Independent Media, where she has developed numerous media literacy/community arts/youth media and creative place-making projects. She is a Professor of Media Arts at Rensselaer, teaching courses in documentary, art, community and technology, and independent art production. Miller is an Emmy award-winning editor who worked in the media industry of L.A. and N.Y.C., and whose media art works have been screened, exhibited and broadcast nationally and internationally. Branda Miller has three decades of experience in participatory design and praxis, and a history of transdisciplinary collaborations created to stimulate cultural animation, build community, and create dialogue around freedom of expression and environmental justice.