Join filmmakers Bhawin Suchak and Ira McKinley for a screening and discussion of their documentary film, The Throwaways.
The Throwaways tells the story of homeless filmmaker, activist, and co-director Ira McKinley, who channels his experience of living on the streets through the lens of a video camera. By using his unique perspective, Ira pulls the curtain back for viewers and exposes how the current economic crisis is having a devastating effect on those who are in greatest need. A gritty, firsthand look at a reality most would rather turn away from, The Throwaways challenges viewers to bear witness and confront the daily struggles and hopes of those living on the fringes of a society that has rejected and forgotten them.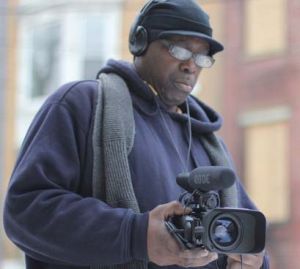 This is more than just a film; it is an expression of the anger, sadness, joys, and hopes of people who have been historically stereotyped, silenced and marginalized by the mainstream media. The Throwaways places personal narratives against the backdrop of a grassroots movement that is rising up, using the power of the people to challenge the slashing of publicly funded programs and services in inner city communities. Not a simple illumination of individuals at their weakest, The Throwaways seeks to inspire and empower by telling these collective stories of struggle while showing that hope does still exist.
****************************************************************
From 1-5pm before the screening, co-director Bhawin Suchak will be leading a workshop focusing on the creative and techniclcal aspects of DSLR-based digital fimmaking, including shooting techniques, audio solutions, film aesthetics, various lenses, editing workflos and distribution options.
Want to participate? Visit the Sanctuary website at www.mediasanctuary.org/DSLRCrashCourse.